If you tried inbound marketing to get qualified leads and fell short, you're not alone.
In HubSpot's Eighth Annual Report on the Future of Inbound Marketing and Sales, 65 percent of companies cited lead generation as their top marketing challenge, As many as 80 percent of marketers reported that their lead generation efforts were only slightly or somewhat effective.
In fact, nearly a quarter of marketers didn't know whether they're efforts were even paying off -- yikes!
Converting leads into sales has become increasingly difficult in the last five years; one reason may be that today's digital landscape is fragmented and chaotic: Given their diversified channel preferences and ability to engage in instant communication, consumers are rapidly changing their behaviors and brand expectations.
Consumers report, for example, that display advertising is more intrusive today than it was two years ago: Four out of five people have abandoned a web page because of a pop-up or auto-playing video ad. Marketers rank outbound marketing tactics, like paid advertising, as the top waste of time and resources.
It's no surprise, then, that many small businesses feel more pressure than ever before to continually crank out a steady stream of leads via inbound marketing. After all, if fewer leads are converting, then the best way to hit sales goals is to increase the pool of leads, right?
Not necessarily!
Perhaps, you invested valuable resources on leads who were never going to convert. But by taking the time to understand your target audience and testing different call-to-action messages, you can hone your lead generation to focus on those most likely to convert. The result: more qualified leads and more sales. Less is more!
In this way, an agile inbound marketing strategy is key to achieving and maintaining a competitive advantage in today's fragmented digital marketplace. If your own inbound lead program is falling short of expectations, it's time to reboot. Here's what you can do:
1. Identfiy Your Ideal Client
Let's be honest: We've all wasted precious time and resources running after a "dream client" that was never going to convert. In retrospect, the red flags are obvious. But, without sufficient perspective at that moment, it's easy to get swept up in the exciting potential of closing a large client. Don't make this mistake again.
If you have not done so already, analyze and determine your ideal client. This is what we call "personnas". Put yourself in their shoes and figure out how they think and what they need.
Looking back at your company's history, which leads are most likely to hire your business, and which ones are going to opt for the competition, no matter what incentives or marketing tactic you use?
Now, look at your lead pipeline. How many leads fit your ideal client profile? How many are in the "unlikely-to-convert" category? Use your ideal client profile to weed out leads that simply aren't worth your time, and focus your lead-nurturing program on those who are.
2. A/B Test Your Call-To-Action
A/B testing is a tried and true tactic essential to ensuring that the right message is delivered to the right lead at the right moment. If you've never invested in A/B testing before, even running a few simple tests can result in a 5-to-20 percent increase to your bottom line, reports Kissmetrics. And, no, they aren't talking about a random conversion rate -- they're talking about real improvements to revenue and customer base.
Why is A/B testing so important for inbound marketing? A/B testing gives you the "why" behind the "what." For example, let's say you have a ton of people clicking on your upgrade offer, but as soon as people see the actual offer, they disappear.
A/B testing, coupled with qualitative data surveys, can help you understand why customers aren't converting and then test different strategies to find out which solution is the best fix for this conversion problem.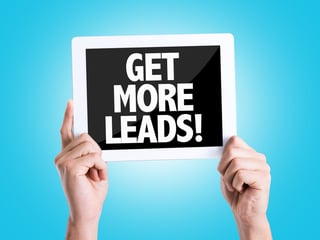 3. Get Serious About Lead Nurturing
Seven out of 10 leads generated from inbound marketing are not "sales ready." That doesn't mean they aren't qualified. They just aren't willing to make a purchase yet.
An effective lead-nurturing program will keep you connected with your leads, so you'll be top of mind when they are ready to buy. Companies that excel at lead nurturing generate 50 percent more sales-ready leads at 33 percent lower cost per lead, says Forrester Research.
4. eBooks Can Make Great Content
eBooks are a valuable resource for inbound marketing. However, as they are a much more in-depth content source, it is fair to ask the consumer for their contact information directly before they download the book. For example, if you are an architecture firm and create an eBook on green building materials, you know that industry professionals will be the primary consumers of that eBook. Before they download the book, simply ask them to fill out their name, email, phone number and company so that you can follow-up with a soft pitch. Based on the valuable information you already provided for free, they will be more likely to listen to your pitch.
5. Blog, Blog, Blog
Keeping a regular blog is an important and necessary way to generate organic content and make friends with Google search. You make think you have nothing to write about but think about your audience and what may be important to them. Brainstorm some ideas and then start jotting down related thoughts. This will be the start of your outline which you will knead into shape. Writing is a muscle and the more the you do it, the stronger you get at it. Industry-related content is good, but feel free to talk about fun things as well, like your recent company picnic or a vacation. In these instances, try to find a way to relate it back to your company and always put a call-to-action within the post.
Bottom line
Improving inbound lead generation is an ongoing process, and you won't see results overnight. But simple changes to your approach -- refining your targeting strategy, A/B testing your calls to action and developing your lead nurturing program -- will set your business up for success in 2017. Now, go out and make it happen!