---
CALLS TO ACTION THAT ROCK:
Calls-to-action (CTA) are the secret sauce that drive people to your offers. If your CTAs aren't effective at capturing people's attention and persuading them to the click, then it renders the underlying offer completely useless.
CTAs are used on product pages (non-landing pages), in display ads, email, social media, direct mail and virtually anywhere your target market might see them. But, as with most things, not all CTAs are created equal. In a world where every brand is fighting for that ever-shrinking consumer attention span, it's critical that prospects recognize the value of your offer over your competitors'.

---
PUT YOUR CTA WHERE YOUR VISITOR CAN SEE IT:
Yes, we saw your eyes roll, but it's simply not as obvious as you think it is. Calls-to-action do best "above the fold" - the space where your web page is viewable to the user without having to scroll down. And these days, above the fold on different devices means different things. Just make sure it's where you can see it for more than just your desktop.

According to heat map analysis, anything "below the fold" will only be viewed by 50% of people who visit your page. Doubling impressions on your CTAs can significantly increase your lead count and conversion percentages.
Notice the placement of the primary CTA on the Freshbooks homepage below. Two buttons for "Try it Free for 30 Days" stand out above the fold.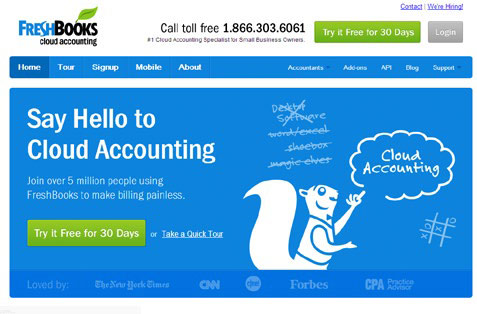 CLARITY TRUMPS PERSUASION:
Often, marketers will put a greater emphasis on being clever and or trying to persuade, rather than being direct and clear. It's important not to leave anything open to interpretation. If you're giving away a free guide, say it. "Download our FREE Hotels in Boston Guide." This is much preferred to "Download Now" or "Read This Article."





Notice that this CTA is to promote a free ebook. There is minimal copy in this CTA and a button that indicates it's clickable.
LINK YOUR CTA TO A DEDICATED LANDING PAGE:
---
This tip might seem minor, but it's not. Your conversion rates will be lower if you drive traffic to your website rather than to a dedicated landing page. It's as simple as that. Even if your CTA is about your brand or product (and perhaps not a downloadable offer), send them to a targeted landing page that is directly connected to the search they conducted to get to your offer in the first place. If you have the opportunity to use a CTA, send them to a page that will convert them into a lead.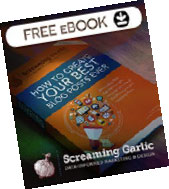 This CTA for a blogging ebook drives visitors directly to a landing page for that ebook.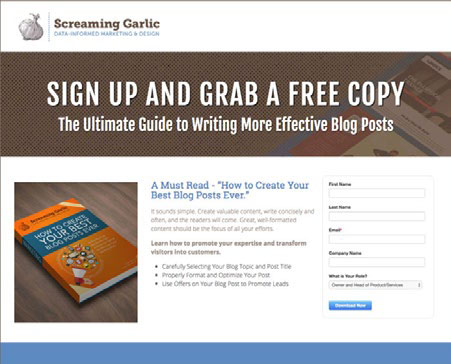 ---
CONCLUSION:
All of these techniques work. We know from experience. This is not a process, however, that happens in 2, 3 or even 6 weeks. It generally takes 4-6 months to be able to generate enough organic traffic such that a certain percentage of it can be converted into leads and then customers. So, in four months from now, where will you be, on your way to your sales and financial goals, or no closer than you are right now?