You figured out how to get an email list with a few thousand names, and now you want to blast the heck out of it so money rains back down on you. Makes sense, except email marketing is about quality rather than quantity.
Don't Buy Lists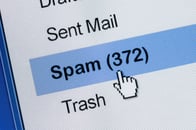 So because it's about quality, don't buy a list. One way to ensure quality is to build your list organically rather than buying one. People on the for-sale lists did not agree to receive your emails, so the email addresses are not quality. Also, sending unsolicited emails is against the CAN-SPAM act. According to the CAN-SPAM Act, a U.S. law that regulates commercial emails, you cannot sell or transfer email add
resses, even in the form of a mailing list. Sending emails to people who didn't ask for them is spam, and will make the readers will lose trust in your company.
A better way to grow your email list is through confirmed opt-in, which ensures that the people you are sending emails to want your emails. This also means you will get less unsubscribes.


Use Bulk Email Targeting
Directly targeting your prospects and customers is always preferable to the shot gun approach.
The ultimate goal with your bulk list is to segment them into different groups and send exclusive emails for each one, rather than sending the same mail to all. A targeted email list is one where you focus on the needs, likes and dislikes of every single customer you have.
There are at least 30 different ways to figure out how to segment your list based on what works best for you.
When you develop a targeted list, you can come up with an email marketing campaign that's a lot more customized and personalized. A targeted email list helps you to interact with people who share your interests or require your products and services in a language, tone and style that appeals to them. Your clients, in turn, feel that you take their interests very seriously and that they are valued.
Unlike mass emails, targeted bulk email helps you to focus on building a strong and lasting relationship with your customers. With a targeted email list, you can have completely different communication styles for different classes of prospects and customers. You can communicate with them in a manner that they will be able to relate to. This will make your campaign a lot more dynamic. On the whole, segmented lists empower you to establish better Customer Relationship Management (CRM).
List building requires a lot of patience and dedication. It can also become a time consuming process. However, you can expect high returns from such a list. A well-segmented email list is the key to a successful, effective and rewarding bulk email campaign.
Looking for assistance on maximizing your email marketing strategy and getting revenue, let us help you.